3 min read

Leading environmentalist David Attenborough has issued a stark warning over the threat of climate change to global security, and called for "unparalleled" cooperation between nations.
Addressing the UN Security Council, Attenborough told world leaders they had an "awesome responsibilty" to tackle climate change or risk the "break down" of civilisation.
The broadcaster made his remarks via video link during the session on Tuesday which was chaired by Prime Minister Boris Johnson, the first time a British PM has led the meeting since 1992.
In a heartfelt plea to the 15 members of the UNSC, he said: "We know that the security of the entire world depends on your decisions.
"You hold the key to prevent a repetition of that global catasrophe – the Great War – that took place during my youth and transformed an entire generation.
"And that awesome responsiblity, I know well, still rests with you. But may I plead that today there are threats to security of a new, and unprecedented kind.
He added: "These threats do not divide us, they are threats which should unite us, no matter from which part of the world we come.
"For they face us all."
The 94 yeard old conservationist said rising global temperatures, the despoiling of the ocean and changing weather patterns would "assuredly become reality" in the coming years, while others could "destroy entire cities and societies" for the next generation unless urgent action is taken.
"If we continue on our current path we will face the collapse of everything that gives us our security," he said.
"Food production, access to fresh water, habitable ambient temperature and ocean food chains. And if the natural world can no longer support the most basic of our needs, then much of the rest of civilisation will quickly break down.
"Please make no mistake, climate change is the biggest threat to security that modern humans have ever faced.
"I don't envy you the responsibility that this places on all of you and your governments.
💬 'Through global co-operation we may achieve far more than tackling climate change. We may finally create a stable, healthy world'

Sir David Attenborough addressed the UN Security Council today as the UK rallies leaders to take climate action. #COP26 | #TogetherForOurPlanet pic.twitter.com/OEG5wwvlvJ


— Foreign, Commonwealth & Development Office (@FCDOGovUK) February 23, 2021
"We have left the stable and secure climate period that gave birth to our civilisations.
"There is no going back. No matter what we do now, it is too late to avoid climate change, and the poorest and most vulnerable, those with the least security are certain to suffer."
But Attenborough said while it was impossible to return to the "stable, benign" climate that had allowed life to flourish on earth, that there were "grounds for hope" if world governments acted quickly.
He claimed the upcoming UN Climate Change Conference, COP-26, due to be held in Glasgow later this year was "our last opportunity to make the necessary step-change".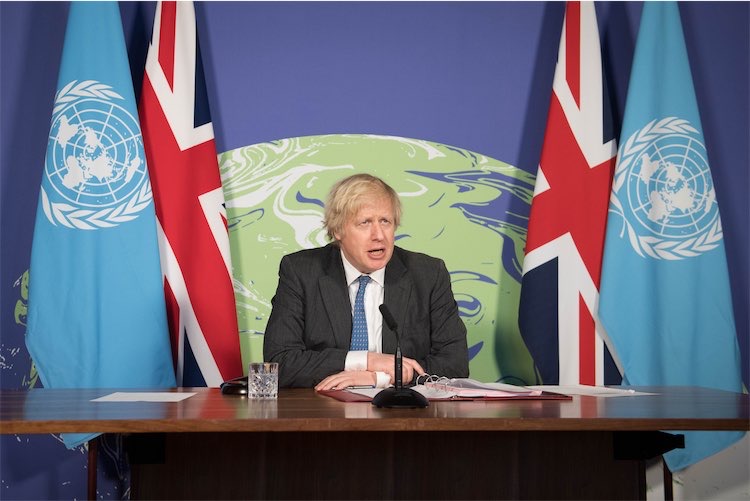 Speaking ahead of the session, Boris Johnson said failure to tackle climate change could lead to further insecurity and worsening conflicts.
"From the communities uprooted by extreme weather and hunger, to warlords capitalising on the scramble for resources – a warming planet is driving insecurity," he said.
"Unlike many issues the security council deals with, this is one we know exactly how to address. By helping vulnerable countries adapt to climate change and cutting global emissions to net zero, we will protect not only the bountiful biodiversity of our planet, but its prosperity and security."